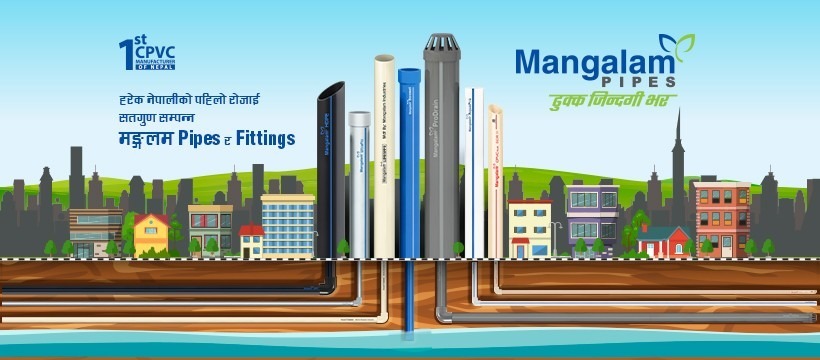 Choosing the right pipes for your house is a lengthy process that will affect the water you use for washing, drinking, cooking, cleaning and growing a vegetable garden. Whether you're building a brand new home or renovating an older home, your choice in pipes can significantly impact you and your family. So you probably shouldn't pass on that choice to your subcontractor.
Mangalam Industries Pvt. Ltd, Nepal's first CPVC pipes and fittings manufacturer as well as Nepal's leading Polymer piping producer and exporter has listed a few of the points that should be considered while making a house particularly if you don't have any prior experience in plumbing. By gaining a better understanding of the factors you should take into account when choosing your plumbing pipe material, you will be able to make more aware decisions.
Choosing the right material
Probably, the most essential role of selecting the correct pipe for a well-maintained system is to make sure that the material is industry-specific. A pipe that is used in a sewer system isn't suitable to be used in food production. In short, you must choose an appropriate material that will work according to the designated industry-specific system.
Durability
Both the exterior surface and interior wall of a pipe must be strong enough to endure demanding surrounding circumstances. It should be able to handle the fluctuating temperature, moisture, wear, and tear from the regular usage. PVC pipes are much more resistant to these factors than their counterparts. These pipes are incredibly durable and resistant to cracks and fractures.
In the case of CPVC pipes, it has outperformed other copper or plastic pipes in regards to durability. CPVC (chlorinated poly vinyl chloride) is a strong and rigid thermoplastic material that is used for hot and cold potable water applications in residential construction. Because of its components, CPVC is immune to damage from highly chlorinated domestic water and has a higher temperature tolerance than PVC.
Thermal Resistance
Extremely high and low temperatures cause liquids to expand, and the pressure that builds up due to this phenomenon hampers the tensile strength of the pipe, causing it to crack and burst. On the other hand, PVC, UPVC, and HDPE pipes are thermal resistant up to a great extent. These pipes are combustion-resistant and do not ignite on their own without external help.
Because of its unique combination of the highest impact resistance CPVC pipes manage to stand strong without any loss in pressure bearing capacity / tensile strength.
Nonreactive Walls
Chemically charged fluid, especially the liquids with salts and harmful elements, don't take long to tear down metal pipes. Instead of using metallic pipes, it may be more profitable to use more flexible options like CPVC and PVC pipes for chemical industries. When it comes to handling harmful fluids, CPVC and PVC pipes are nonreactive.
Resistance to organic bio-growth
Nonreactive, inert pipes are the safest choice for the transportation of drinking water. Nonmetal pipes like CPVC, PVC, UPVC, and HDPE do not let organic microbes accumulate and breed over them. CPVC's unique bio-grown resistant property makes them ideal for sewage piping and water pipes. Mangalam Industries has been reliably delivering clean, safe water to families in Nepal as well as in India.
Easy installation
On the one hand, where metal and cement pipes are heavy and high maintenance, the PVC and CPVC pipes offer a light-weight, economical alternative for construction. These pipes are easy to move and easy to install. This also allows a large number of pipes to be carried in significantly less amount of time, effort, and labor cost.
Maintenance Cost
Use higher-quality and corrosion-resistant materials to reduce the maintenance and replacement cost of the pipes. CPVC, PVC, UPVC, and HDPE pipes demand less energy and resources to manufacture. These pipes last for long years with a minimum of maintenance.
The leading pipe and fittings brand Mangalam Industries produces high-end cost-effective CPVC, PVC and HDPE pipes for residential, agricultural use as well as for industrial mining. Mangalam pipes is a trusted Nepali brand that offers the homeowners what they seek in pipes notably that are leak free and have a long life. Mangalam Industries with an installed capacity of 10,000MT of Polymer processing capacity today is one of the largest manufacturers of CPVC, PVC, HDPE, LLDPE products in Nepal. It has been serving pipe related issues to minimize maintenance and in addition to the time and cost required for installation, Mangalam has been certainly an easy choice.