Mangalam HDPE pipes are manufactured using high-density polyethylene that ensures their flawless performance and long functional life. These pipes are quite useful for carrying potable water, slurries, hazardous wastes, etc.
High-Density Polyethylene Pipes, popularly known as HDPE Pipes is commonly used plastic pipes for a variety of applications. Nowadays, these pipes have become an alternative for PVC pipes due to some of their unique and desirable features. These pipes possess high strength to density ratio, which makes them suitable for underground applications where vibrations are common. HDPE pipes have great strength, resilience and an incredible weather resistance. Their ability to withstand extreme high and low temperatures makes them fit for systems where heat is generated. HDPE Pipes are used in agriculture, residential, transportation and industrial purposes .
HDPE Pipes are in great demand due to their cost effectiveness and exclusive features. In heavy and medium scale industries they are used for transportation of oil, gas, minerals, chemicals, gels and other form of liquid & semi-solid items. In agriculture, they have been used for irrigation and water transportation purpose. One of the most desirable properties of HDPE Pipes is that it does not impart any odor or toxicity of the liquid that is being transported. In addition, the installation of these pipes is very easy and smooth. They are durable, transportable and easily replaceable.
Mangalam Pipes is a well-known manufacturer and supplier of HDPE Pipes/HDPE coils. We have got a state of the art manufacturing facility with modern machineries, equipment and instruments that enables us to ensure flawless manufacturing. We manufacture HDPE pipes of all standard lengths and diameters. Having a vast experience in the field, we are ready to take up any challenge and complicated requirements. We are a quality centric organization and all our day to day processes are done in adherence with predefined company norms & standards.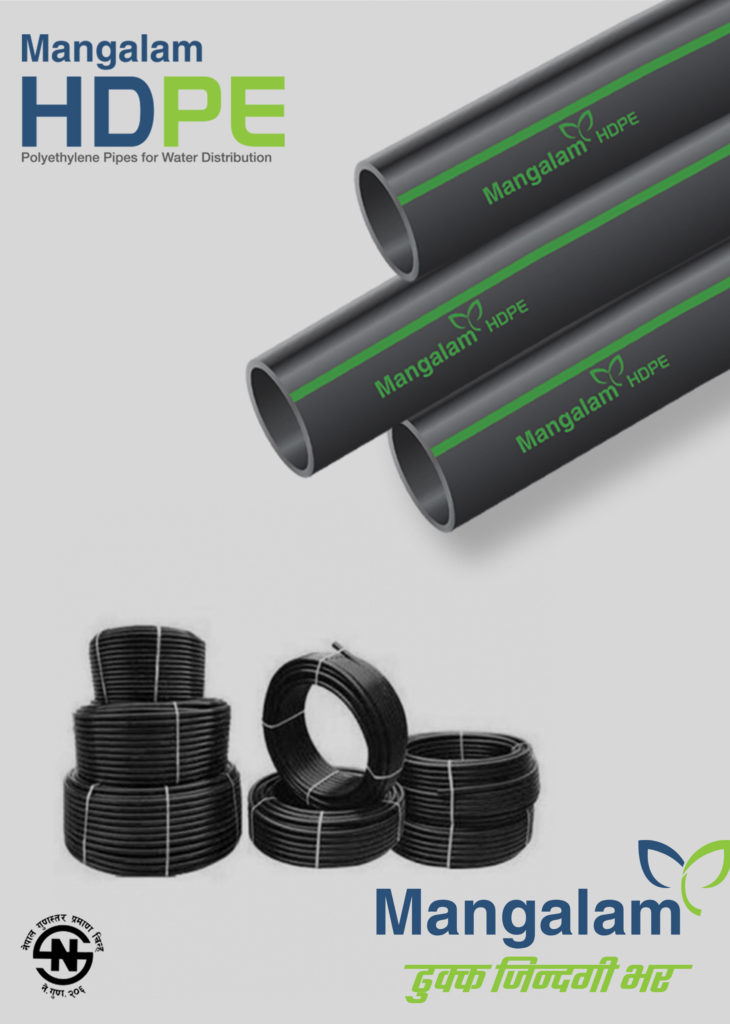 Application of HDPE PIPES